It's time to play the Game of Unspoken Things
with your research team
Attention for healthy work relationships and a socially safe work environment is increasing (Evans, et al., 2018; Farrar, 2020), but there is still a world to be won. Sensitive topics such as competition and mental health are easily swept under the rug. With the Game of Unspoken Things (GUT) we would like to change that and open up the discussion about those unspoken things, in a positive and safe way. Therefore our aim is to create healthy transparent and inclusive working cultures where every voice will be heard and listened to.
GUT provides a connecting – but also safe and fun – way to proactively talk with each other about 'the unspoken things', in order to maintain or build on a social safe and healthy work culture.
Play GUT with your research team
It is an accessible way to gain insight into existing patterns within your team, strengths and pitfalls from team members and to promote an effective and enjoyable collaboration
GUT has been specifically developed by, and for people who work in a research environment
It is a fun, safe and connecting conversation starter
Suitable for various occasions, such as evaluations, team building, etc.
 Play it in your own team or under the guidance of a Downsideup trainer/coach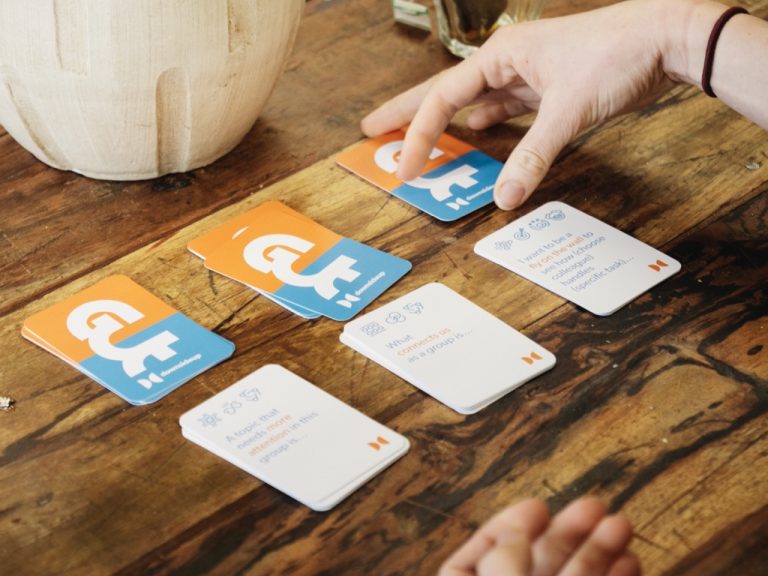 GUT session under supervision of a Downsideup coach
If the game sparks your interest, we offer GUT sessions guided by one of our coaches. Here are the specifics:
Goal: identifying important unaddressed topics within your team in an open, light-hearted and connecting way & determining how you would like to follow-up on these topics
Duration: from 1,5 up to 3 hours, based on your request
Ideal team size: ranging from 3 – 12 (bigger groups are possible)
Location: at your office or an external location
Customise: if you have a specific theme/topic you want to address, we have the ability to customise. Preparation is not necessary
You will leave the session with renewed team spirit and a lot of new ideas to put into action
"Playing the game of unspoken things was a refreshing way to connect to my colleagues. Many things that were previously not really talked about became explicit: I realized that many colleagues felt the same way about certain issues and it was good to explicitly talk about how we can help one another with the diverse set-backs that we encounter. Overall it brought us closer together after 2 years of working from home." Kim Lien van der Schans – PhD candidate at Radboud University Nijmegen
I like to have a set of cards
We are currently developing the game. You can already play the game under the supervision of a Downsideup coach. Would you like to be notified when you can buy a set of cards? Then sign up here for our newsletter.