It's time to play the Game of Unspoken Things
with your research team
"Psychological safety exists when people feel their workplace is an environment where they can speak up,
offer ideas, and ask questions without fear of being punished or embarrassed." (Edmondson, 2019)
GUT is a card game developed in collaboration with and for people working in research cultures. It contains questions, statements and behavioural rules that enable any research team to put the unspoken things on the table in a constructive way, taking first steps in fostering psychological safety.
Are there things in your organization that are talked about at the coffee machine or in private but avoided in official meetings? Then you might be heading towards trouble. In a climate lacking psychological safety, researchers become demotivated, cynical, and burnt out – a pattern that's unhealthy, expensive and – unfortunately – quite common in research cultures (KNAW, 2022).
How to turn the ship around? Open the conversation. We are glad to assist you, be it with coaching, courses, advice, a culture scan or playing GUT.
If we want researchers to do solid research, we need to get rid of unhealthy cultural patterns and build a culture of trust and safety instead.
Play GUT with your research team
It is an accessible way to gain insight into existing patterns within your team, strengths and pitfalls from team members and to promote an effective and enjoyable collaboration
GUT has been specifically developed by, and for people who work in a research environment
It is a fun, safe and connecting conversation starter
Suitable for various occasions, such as evaluations, team building, etc.
 Play it in your own team or under the guidance of a Downsideup trainer/coach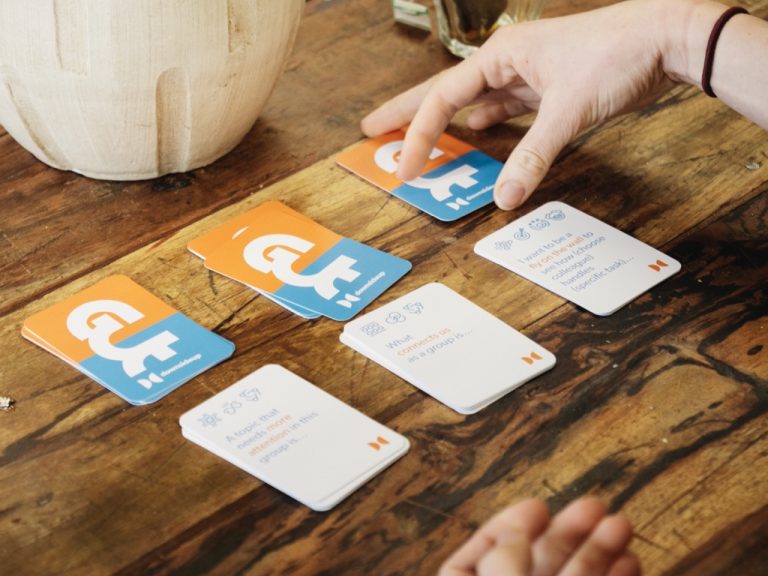 GUT session under supervision of a Downsideup coach
If the game sparks your interest, we offer GUT sessions guided by one of our coaches. Here are the specifics:
Goal: identifying important unaddressed topics within your team in an open, light-hearted and connecting way & determining how you would like to follow-up on these topics
Duration: from 1,5 up to 3 hours, based on your request
Ideal team size: ranging from 3 – 12 (bigger groups are possible)
Location: at your office or an external location
Customise: if you have a specific theme/topic you want to address, we have the ability to customise. Preparation is not necessary
You will leave the session with renewed team spirit and a lot of new ideas to put into action
"Playing the game of unspoken things was a refreshing way to connect to my colleagues. Many things that were previously not really talked about became explicit: I realized that many colleagues felt the same way about certain issues and it was good to explicitly talk about how we can help one another with the diverse set-backs that we encounter. Overall it brought us closer together after 2 years of working from home."

Kim Lien van der Schans – PhD candidate at Radboud University
"I definitely recommend this tool that can be integrated to any community or team. I hope that more people get the chance to use it in a facilitated and safe way, so that they may be inspired to discuss hard topics and learn forward from them.
It can enable groups to reach greater heights and overcome hindrances to innovation. "

Jane Pauline Ramirez – Researcher at Delft University of Technology 
I like to have a set of cards
We are currently developing the game. You can already play the game under the supervision of a Downsideup coach. Would you like to be notified when you can buy a set of cards? Then sign up here for our newsletter.